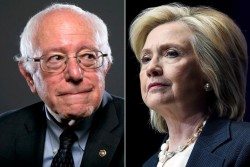 CNN's coverage of the first Democratic presidential debate drew both praise and controversy across the political spectrum. Many people felt that Anderson Cooper did a great job asking tough questions of the candidates and sticking to the issues. Others criticized CNN for declaring Hillary Clinton the winner of the debate, despite online polls and focus groups (their own and other media outlets') showing Bernie Sanders the winner. Candidate Jim Webb felt that the debate was rigged in favor of Sanders and Clinton (the two frontrunners did dominate in minutes spoken).
Political observers have been waiting for some scientific polling to gage the debate's impact upon the Democratic electorate. CNN's poll found that a majority of Democrats felt that Hillary Clinton won the debate, but it is Bernie Sanders who gained a boost in polling numbers. From CNN:
With the first Democratic debate in the books, a new CNN/ORC poll finds most who watched think Hillary Clinton had the best performance of the night, but her strong showing hasn't boosted her standing in the race for the party's nomination.
Clinton stands at 45% in the race for the Democratic nomination, with Vermont Sen. Bernie Sanders behind her at 29%. Vice President Joe Biden, who is considering a run for presidency and did not participate in last week's debate, follows at 18%.

***

Compared with pre-debate polling, Sanders' support is up five points since mid-September, but no other candidate showed significant change.
It is interesting that a majority of those polled by CNN felt that Clinton was the winner, but Sanders got the boost. CNN's poll also found that voters preferred Sanders a bit more than Clinton when faced against Republican frontrunner Donald Trump. The Vermont Senator leads Trump by 9% while the former Secretary of State leads Trump by 5%.
If I'm to speculate why Sanders got a boost in the polls among those polled by CNN, when a majority apparently felt that Clinton won the debate, I would guess that many Democrats weren't very familiar with Sanders, so he got a boost from just an increase in name recognition, along with the fact that his policies are certain to appeal to many in the Democratic Party base. Additionally, polls show that many voters don't find Clinton trustworthy, so despite her formidable debating skills and extensive knowledge of the issues, her answers still fall flat to many because she seems inauthentic, in contrast to Sanders.
One big positive for marijuana law reform advocates, Bernie Sanders didn't hurt himself one bit by staking a strong position in support of marijuana legalization. After taking what many political pundits would consider a risky proposition, focus groups and the online community loved Sanders' debate performance and he received a boost in the polls, demonstrating the mainstream appeal of cannabis legalization, or the fact that voters don't consider it a big deal anymore. Sanders' success nationally, win or lose, has greatly impacted the national debate around cannabis legalization the greater Drug War. He has increased the likelihood that candidates across the nation will understand that reforming the failed War on Drugs is not only the right thing to do, but is also very good politics.