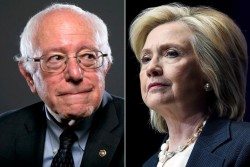 Bernie Sanders and Hillary Clinton have ran, for the most part, very issue-driven campaigns, rarely taking the bait to really engage each other or mention each other on the campaign trail. While Republican candidates and the media have not, and likely are not, going to drop Clinton's private email and server scandal, Sanders famously stated at the first Democratic debate that, "The American people are sick and tired of hearing about your damn emails!"
Despite the opinions of focus groups and internet poll voters, Clinton was praised by political pundits and has been viewed by many as the winner of the first Democratic debate. Sanders gained on Clinton on debate host CNN's poll, but Clinton's position has been strengthened, according to several other polls. Sensing that now was the time to very publicly launch a scathing critique of Clinton's political legacy, the insurgent candidate took on the Democratic front-runner with a fiery and passionate speech at the Iowa Democratic Party's Jefferson-Jackson Dinner on Saturday.
From Time:
During his 25-minute remarks, Sanders ticked off a long list of areas where he has a more progressive record than Clinton, mentioning his opposition to the Iraq War, the Keystone Pipeline and the Trans-Pacific Partnership, a massive 12-nation trade deal. In cases where their positions are not far apart, Sanders contrasted his long-held views with Clinton's more recent pronouncements. On the Trans-Pacific Partnership, he quoted a 2012 speech in which she called it the "gold standard" of trade agreements.

"That agreement is not now, nor has it ever been, the 'gold standard' of trade agreements," Sanders said. "I did not support it yesterday. I do not support it today, and I will not support it tomorrow!"

Sanders then brought up Defense of Marriage Act, passed under president Clinton, which defined marriage as being between a man and a woman. Hillary defended her support of it in an interview with MSNBC on Friday, calling it a defensive line against Republicans who wanted to amend the constitution and outlaw same sex marriage.
Clinton, moved to attack Sanders for stating that both sides of the gun debate were "shouting" at each other, implying that Sanders (and others) have a problem with women speaking out on issues. "I'm not shouting. It's just that when women talk, some people think we're shouting," the former First Lady responded. Sanders took issue with any implication that he is sexist or believes that women are "shouting" about issues. CNN reports:
Sanders on Sunday laughed at her suggestion that his remarks were about gender.
"All that I can say is I am very proud of my record on women's issues. I certainly do not have a problem with women speaking out — and I think what the secretary is doing there is taking words and misapplying them," Sanders told Tapper.

"What I would say is if we are going to make some progress in dealing with these horrific massacres that we're seeing, is that people have got to start all over this country talking to each other," he said. "It's not Hillary Clinton. You have some people who are shouting at other people all across this country. You know that. This nation is divided on this issue."
There are real issues dividing the two leading Democratic candidates, especially when considering their entire political careers. Sanders has been a leading progressive on many issues for more than four decades, from the Vietnam War to marriage equality to the Drug War. Clinton, on the other hand, despite calling herself a "progressive" has been a centrist Democrat, particularly when compared to Sanders' liberal record. While I have mixed feelings about Hillary taking credit and blame for Bill Clinton's presidency, it is fair game to put her on record whether she still supports, or regrets, Drug War policies implemented under the Clinton presidency. From Jeff Stein, writing for Alternet:
There is also very strong evidence that these policies contributed to the immiseration of vast numbers of black (and also white) Americans at the bottom of the economic ladder, according to the well-known conclusions of journalists, academics and other criminal justice experts. Federal funding for public housing fell by $17 billion (a 61 percent reduction) under Bill Clinton's tenure; federal funding for corrections rose by $19 billion (an increase of 171 percent), according to Michelle Alexander's seminal work, "The New Jim Crow: Mass Incarceration in the Age of Colorblindness." The federal government's new priorities redirected nearly $1 billion in state spending for higher education to prison construction. Clinton put a permanent eligibility ban for welfare or food stamps on anyone convicted of a felony drug offense (including marijuana possession). He prohibited drug felons from public housing. Any liberal arts grad with an HBO account can tell you the consequences for poor, black American cities like Baltimore. As Alexander writes, "More than any other president, [Clinton] created the current racial under caste."

While it's true that it was Bill who, as president, was ultimately responsible for these decision, Hillary was nonetheless a famously involved First Lady on political matters — a reputation she's shown willingness to capitalize on in her new campaign. According to a 2013 Wall Street Journal report, Hillary has "signaled she would use the 1990s as a selling point if she jumps in the race, making the case that, as first lady, she was part of an era that found solutions to the same sorts of political difficulties that bedevil present-day Washington." That legacy includes Bill Clinton's "War on Drugs," whether you like it or not.
Marijuana legalization and greater Drug War reforms were a prominent issue of the first Democratic debate and will likely play a bigger and bigger role during the Democratic primary campaign. Candidates from both parties will be put on the spot, both on the campaign trail and in future debates about many criminal justice issues, from medical cannabis to recreational legalization to private prison reform. Sanders has mostly been on the right side of Drug War issues, especially when compared to Clinton's legacy.
There is no reason for any candidate to get personal, but on the important issues of the day, it is okay for the gloves to come off. On marijuana legalization and Drug War reform, Sanders has been the better candidate, and more in line with Democratic voters; he would be wise to continue to emphasize the political differences between himself and Clinton on the War on Drugs and many other progressive issues as this campaign heats up.