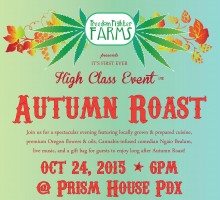 There are a lot of marijuana events around Portland, Oregon, these days, but not many feature farm-to-table food, the comedic stylings of Marijuana Politics' own Ngaio Bealum, along with activism that supports medical cannabis patients and good marijuana laws. If you enjoy cannabis, comedy and good food, then the Autumn Roast this Saturday at the Prism House is just the event for you. In addition to the great food and times, you will be helping activists that give back to patients and important causes. From the Autumn Roast Eventbrite page:
Join us for a spectacular evening featuring locally grown & prepared cuisine (Prism House & Panacea Valley Gourmet Edibles Chefs), premium Oregon flowers & oils (do you want to be a sponsor to share your premium product?), Cannabis-infused comedian Ngaio Bealum, live music, and even a gift bag for guests to enjoy long after Autumn Roast!

This locally sourced menu includes many ingredients grown on premises. Roasted Butternut Squash Macaroni and Cheese, Roasted Chicken Skewers with Prism House's famous Zucchini Rhubarb Marmalade and much more, with GF, Veg and V options! We will leave dessert to your imagination… it will certainly not disappoint!
Prism House
has been helping bring good media attention to the cannabis community by demonstrating that adults can
responsibly utilize cannabis
without the sky falling. Producer of the event,
Freedom Fighter Farms
, donates 20% of all proceeds to help good political causes and low-income patients acquire medical cannabis, including full extract cannabis oil to cancer patients.
Please note that this event is only for adults 21 years of age and older. There are only a limited number of tickets, available for $85. If you are in, or can make it to the Portland, Oregon, area this Saturday night, this is how you will want to spend your evening. What is better than having a great time while supporting great causes?
Get your tickets today before they sell out!